Things I'm proud of
Being proud of something is often a look back to situations when something important changed or a far-reaching decision was made.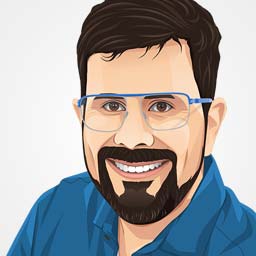 Author: Markus A. Wolf
Updated: November 2023
What are you proud of?
Do you ask yourself this question as well?
Looking back to my achievements I can say to myself - Yes I did it. Being proud of your own achievements is a good thing and sometimes you are proud of things and it is hard to explain to others why. For me, everything started with my first Atari 2600 in 1982 and I am proud about this. I got addicted to computers and its possibilities to create new things, especially software.
Here is my list of things I'm proud of - enjoy the reading.
Few weeks after I got my first computer, a Commodore 128D in 1986, I developed my first 2D animation. It was a rotating helicopter flying against a wall with sound effects.
Published and sold together with a friend my first project, a short comedy movie of Hansel and Gretel to a nation-wide magazine in 1989. The animation was made with Autodesk Animator and the more enhanced version of the short movie with Autodesk Animator Pro.
For a local laboratory company I developed a fully automated digital sample organizing system based on Microsoft Excel in 1994
In 1995 the company Deutsche Bahn planed to change the old analog displays and replaced it with a digital version on each platform . I was part of the team who built one of the prototypes the Deutsche Bahn is using nowadays.
Jurassic Park came into German movie theaters on 2. September 1993. While watching the movie I had - like many other kids at this age - the dream of becoming a professional 3D animator. But in contrast to many kids, I really had the chance to work for 2 years on the same Silicon Graphics machines with Softimage Industrial Light and Magic which was used for Jurassic Park.
Back in 1999 I managed the whole photo production process on a Sinar large format camera which includes photo development and color laboratory which was huge. Hard to imagine as today taking pictures is an act of seconds even on large format cameras.
In 2000 I gave my first lessons to students in software development in Flash while I was studying visual design.
My graduation work for my diploma in Communication and Visual Design in 2002 was a corporate identity for the DTM race event "Norisring". The nucleus of my work was a dynamic and animated website with content from several sources.
In 2003 the state of Bavaria wanted to make a huge impact on an international education fair. We - me and the whole advertising agency I worked for that time - finished in 40 hours, without a break, the campaign materials and I on top I moved castle "Neuschwanstein" from the original place to the top of a huge wooded mountain - of course in Photoshop - without any trace 😄
Working with content and building online campagnes inspired me to my own PHP based Content Management System called bk.EDIT in 2006. I started alone and at the end we were a team of four to sell the CMS to customers and build new websites with bk.EDIT.
In 2008 I designed the award winning energy certificate for Minol Messtechnik and developed the web application to sell this product to customers with SAP web service integration. You can see my version of the "Energieausweis" on Wikipedia:
The day care website "Kindertagespflege aktuell" I designed, developed and co-managed became the most influencing platform in this particular sector in 2011 - of course with lots of SEO.
In 2012 I won the internal Wolters Kluwer innovation award with a mobile community solution. The prize was a full-time certified training in innovation management at the prestigious university RWTH Aachen.
With the podcast and local blog "Nürnberg und so" we were the most popular podcast and non commercial blog based on page impressions in northern bavaria between 2012 and 2015
In 2013 I co-founded the first foodtruck platform in Germany "Foodtrucks Deutschland". A top of 10. Mio impressions monthly were telling us the value of the impact we had for all mobile food vendors.
Between 2015 and 2018 I was an active part of the silicon valley community. I gave Strategic marketing lessons at UC Berkeley, worked for Google, Trello and Slack, was part of several expert panels and was booked for innovation speeches.
Right now I'm in Taiwan - we will see what happens next …
More articles
Thoughts, topics or just solutions I would like to make available to you, colleagues and fellow enthusiasts.